Improve your market share, build a bigger book of business...
"The Pente Company, LLC "Executive Package" is the right choice for business owner's who are interested in gaining more market share, expanding their book of business and increasing revenue.
Other advertisers simply market their website and database of providers. This database typically includes a number of competing agencies sometime multiple. This usually results in the occasional high risk work from out of area clients sifting through job bids to find a price and vendor offering what they are looking for with no guarantee you will receive that job.

The Pente Company, LLC System differentiates itself from others because IN ADDITION to
marketing our website and database of SINGLE exclusive providers per territory, we intend to have sales representatives working on your behalf. These representatives work to secure low risk LOCAL business that then hopefully sends you REPEAT BUSINESS. These representatives work on salary PLUS commission and bonuses based on their performance and revenue generated.

Furthermore, we intend to have an individual managing these representatives that also works on salary PLUS commission and bonus based on the company AND representatives performance. Therefore this person encourages the representatives performance, hard work and desire to produce. This creates a scenario where it is in everyone's best interest to provide their absolute best from marketing down to the franchisee in order that we can grow your client base and revenue most expeditiously.

*The Executive Package requires $100/Mo minimum royalty, or 10% of gross monthly Pente sales, whichever is greater.

Pente is currently offering introductory rates on a limited
number of Executive Packages for a limited time.
Secure your territories now and grow your business!
The Executive Package includes the following franchisee support services:
ServeManager Software
Included for the Pente Franchise Business Free of charge (required use)
Included with their existing business with a $.25 per job fee (not required to use)

NAPPS Membership reimbursement

Franchise Territory Exclusivity

Full Franchise Rights


If you are interested in Pente's Executive Package and would like for us to contact you please fill out the form submission below. Or feel free to call us!
Corporate Office
1220 NE Beacon Avenue
Lee's Summit, MO
64086
Toll Free: 1.855.GOPENTE (407.3683)
Office: 816.347.8340
*Denotes Required Field
Join Our FREE Informational Webinars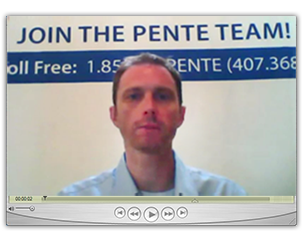 CLICK HERE
or on the video image above to
view Pente's last webinar. Check back soon for
upcoming webinar/educational information!
Pente Legal Solutions Packages Webinar
CLICK HERE to view webinar
Ever wish you could have invested in Google, Microsoft, or APPLE before they were the giants they are today. Well we have not yet reached
their level, but tune in on July 30 at 2pm cst
where we will discuss in more detail the highly
affordable packages we offer and how for a
minimal investment of mostly your time you
might have a second opportunity to secure
a large financial return. We will also continue
to hammer on the concept of our vested
financial interest in franchisee success as
opposed to other advertisers. Remember it's
not Why?, but Why Not!
Select a specific location from the drop down menus below to view additional information..
Please contact us directly if you need service in a region that is not listed below.
TOLL FREE: 1.855.GØPENTE (407.3683)