Like the Pente concept, but not quite ready to proceed?
Reserve your territory TODAY by adding your name to Phil's list.
Priority
This is a free service, there is no expense to you! Keep in mind, the early bird gets the worm... the sooner you reserve your territory the more likely you will receive priority over other business owners who are also interested in the same territory.
Secured
Prospects on this list will receive notification of other prospects interested in immediate purchase of their territory. Secured Prospects will then have first right of refusal. If refused we will immediately sell to the immediate purchase prospect. No refund given for Secured list prospects should they elect to not purchase their territory. If the prospect elects not to relinquish their territory rights we will immediately require them to purchase their territory under one of the other packages.
*No refunds on securtity fees.
Pente is currently offering FREE Phil's List sign-up for a
limited time. Reserve your territory today!





If you are interested in signing up for Phil's List and would like for us to contact you
please fill out the form submission below. Or feel free to call us!
Corporate Office
1220 NE Beacon Avenue
Lee's Summit, MO
64086
Toll Free: 1.855.GOPENTE (407.3683)
Office: 816.347.8340
*Denotes Required Field
Join Our FREE Informational Webinars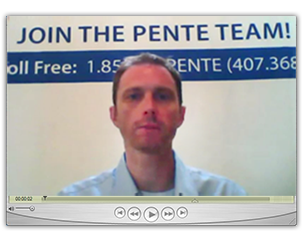 CLICK HERE
or on the video image above to
view Pente's last webinar. Check back soon for
upcoming webinar/educational information!
Pente Legal Solutions Packages Webinar
CLICK HERE to view webinar
Ever wish you could have invested in Google, Microsoft, or APPLE before they were the giants they are today. Well we have not yet reached
their level, but tune in on July 30 at 2pm cst
where we will discuss in more detail the highly
affordable packages we offer and how for a
minimal investment of mostly your time you
might have a second opportunity to secure
a large financial return. We will also continue
to hammer on the concept of our vested
financial interest in franchisee success as
opposed to other advertisers. Remember it's
not Why?, but Why Not!
Select a specific location from the drop down menus below to view additional information..
Please contact us directly if you need service in a region that is not listed below.
TOLL FREE: 1.855.GØPENTE (407.3683)